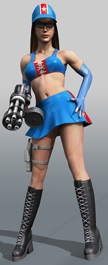 The Fox is the childhood best friend of Whiplash, a partner in crime, and lifetime companion. When Whiplash ran away to Hollywood, Fox joined her. Together they entered into the stunt industry. However, while Whiplash was renowned for her precise and calculated athletics, Fox became infamous for her resilience, one after another she was given more dangerous roles.
Finally she decided that her life was worth more than the pittance she was being paid and once again teamed up with her best friend to chase what she believed she richly deserved: the high life. The twosome formed the Vixens with Whiplash in charge and began their crime sprees eventually finding their way to Capital City.
The Fox made her first and only appearance in the city when The Vixens attempted to steal what supposedly was a shipment of a supercomputers which was (unknown to them) bring driven by The Cop. When the Fox turned up the ambush turned into a chase. Soon it looked like The Cop had the upper hand but the Fox called in her own gunship to attempt to kill the cop and escape, however it was in vain as the Cop managed to hit her and send her falling to her death.