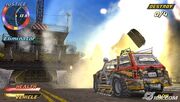 The Demolisher is a vehicle in Pursuit Force Extreme Justice, and it's Hard Balls' vehicle. It is tall and really big and It is featured with armor platings at the back (which you have to destroy first), and various type of weapons on it, such as giant chainsaws and gas. It also has some graffitis, a turret and a wrecking ball that Hard Balls will use for killing the Commander. It will appear in the case "Ball Breaker" in Act III.
Ad blocker interference detected!
Wikia is a free-to-use site that makes money from advertising. We have a modified experience for viewers using ad blockers

Wikia is not accessible if you've made further modifications. Remove the custom ad blocker rule(s) and the page will load as expected.