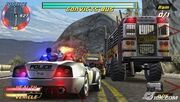 The Convicts' Bus was the 'Heavy Artillery' (so to speak) of the Convicts. It mades its first appearance in the original Pursuit Force in the final Convicts' case 'Bus to the Border' allowing
Hard Balls
to attack the Cop while continuing to progress towards the state border. The bus would be his undoing after taking so much damage as it would crush his leg rendering him unable to escape.
The Convicts Bus played a heavier role in Pursuit Force Extreme Justice. The Convicts used this as their mode of transportation of Dr Pertwee after capturing him. The bus had been made bulletproof (Assumably a move by The Warlords or maybe even Viper Squad) meaning that heavy ramming of the very heavy vehicle and thus tipping it was the only way to stop it.
In both games, it's identical.